New Ways of Grasping the World since 2005

Keynotes, Books, and Consulting
Eminently sharp, well presented and with a dash of satire. LRA grasps the very big narratives and elegantly links them to the current context for the presentation and our conference: educational guidance during a paradigm shift. LRA's introductory keynote gave us a start, which lifted the entire conference right from the beginning.

Pia Vigh
Youth Guidance, Denmark
When several students announce excitedly that they have plenty of notes from the presentation that they need to investigate further, I know that the presentation has been a success.
Merete Østergaard
Scandinavian Design College, Denmark
If you want to understand bildung, you need to understand something about everything. Which quickly becomes shallow. When Lene Rachel Andersen explains bildung, however, you see the full picture in a way that allows you to grasp the many facets of bildung, historically as well as regarding the future.
Lene Dammand Lund
Rector, the Royal Danish Academy, Denmark
This was so exciting, I just kept knitting and now the sock is too long…
Wonderful Grandma at a public presentation, Denmark
Main Articles and Papers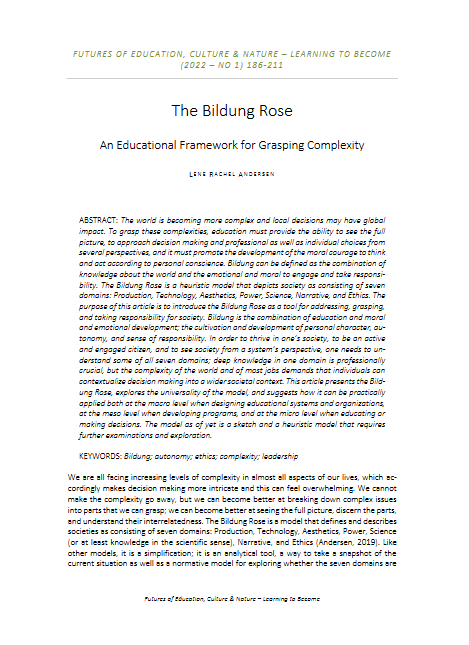 The Bildung Rose
An Educational Framework for Grasping Complexity
FECUN Futures of Education, Culture & Nature – Learning to Become
(2022–NO1) 186-211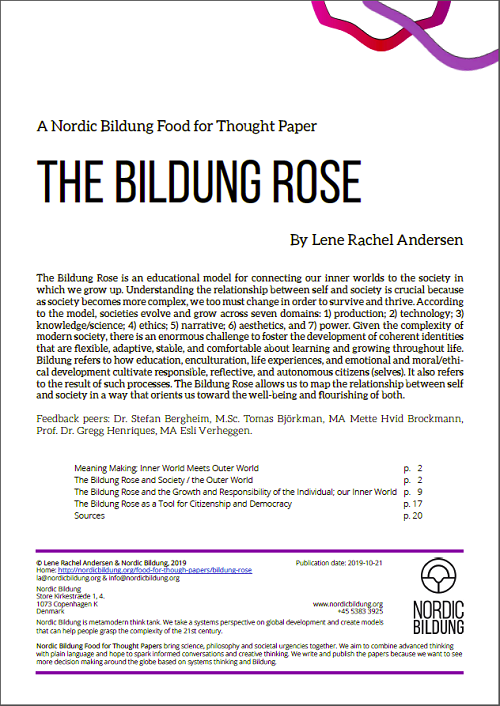 The Bildung Rose
A Nordic Bildung Food For Thought Paper, 2019
https://www.nordicbildung.org/the-bildung-rose/ the page includes a 3-page version of the paper and a Spanish translation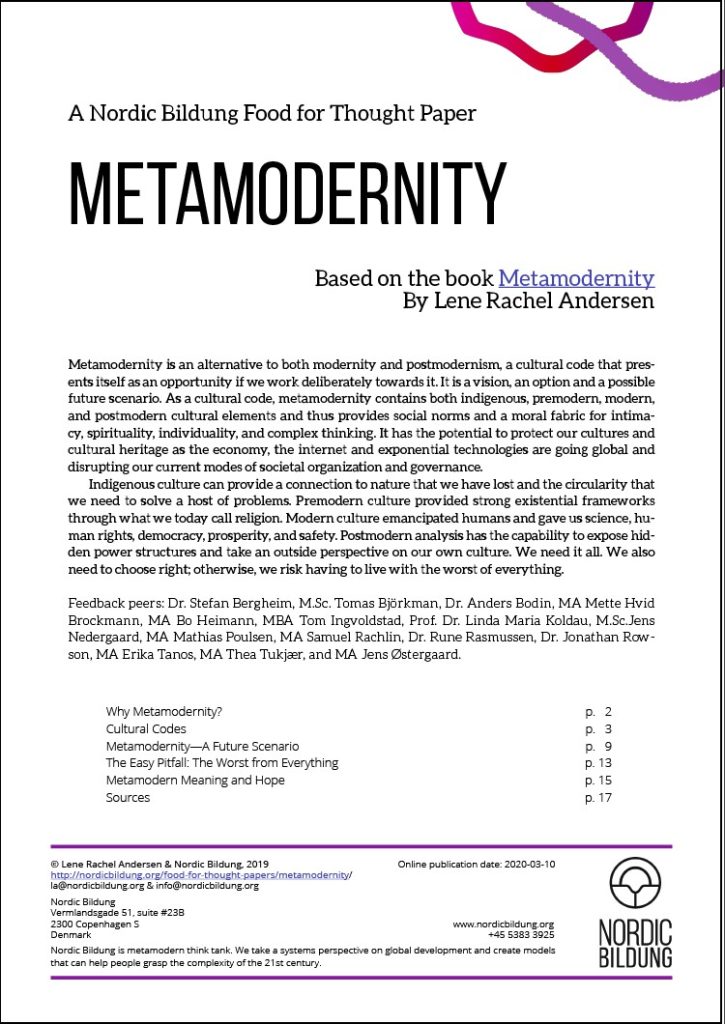 Metamodernity
A Nordic Bildung Food For Thought Paper, 2020.
https://www.nordicbildung.org/metamodernity-paper/
An abbreviated version of the book
My podcast and video series
Nordic Metamodern
at Nordic Bildung
---
Video and Podcast Interviews and Presentations
Introducing bildung at the Conscilience Conference by Gregg Henriques in spring 2023, also speaking: Brad Kershner and Zak Stein
Bildung and the folk high school system, needed for the meaning crisis, w/ John Vervaeke, September 2022